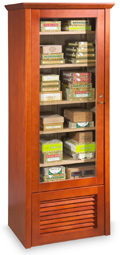 See more


Detail of the air conditioned electronic system with digital hygrometer and alarm red led as signal of water lack and temperature display.
Air conditioned cigar cabinet for 80 cigars boxes
Capacity of +/- 80 cigars boxes, the capacity depend on the type of cigar.
Height : 170cm(67In)
Width : 45cm(17,7In)
Depth : 60cm(23,6In)
» Inside part, enterely made of cedarwood, 5 shelves.
» This cigar cabinet have 3 points closing system on the door.
» Electronic air conditioning system constantly monitors and controls the humidity level and the interior temperature, showing parameters on the front display and alarm red led as signal of water lack.
» Available in : Walnut finition.
Price on 01.01.2015 :
7031 EUR, VAT & shipping fees NOT included.
All our offers are to be confirmed on pro forma.
Generally delivered within 3 and 8 weeks, please, contact us.